The New Agent Fuel Bonus Program
Introducing: The New Agent Fuel Bonus Program
As an agent that has joined our Network in the past 16 weeks, you are now eligible to earn N500 daily with a max of N3,500 for every trading week.
Weekly Payouts:
| | |
| --- | --- |
| 5 Trading Days | N2,500 |
| 6 Trading Days | N3,000 |
| 7 Trading Days | N3,500 |
Conditions:
Trading Days per Week: 5
Trades / Day: 10 trades on either Sports or Virtual
Platform: Both sports and virtual bets must be active
Stake: 50,000 Naira per week
Eligible Agents: New Agents registered less than 16 weeks.
Expiry: After 16 weeks from registration the Bonus will Expire.
How does it work?
Go to the "Reports" Section on the left-hand menu and choose "Bonus."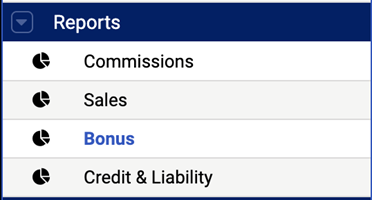 In your dashboard, you will find the "Agent Welcome Bonus" Program.
Click on "Agent Welcome Bonus" and register into the program. If you do not register within 1 week, your registration will expire, and you will not be able to be part of the program.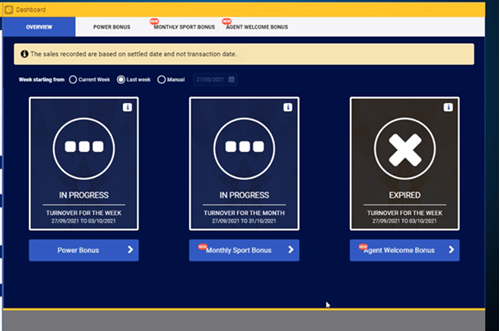 The dashboard will show you your weekly progress: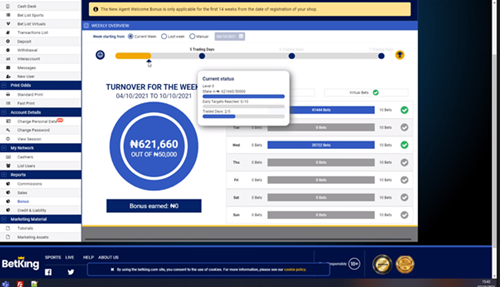 If you go inactive for a week, the system will show you an error message.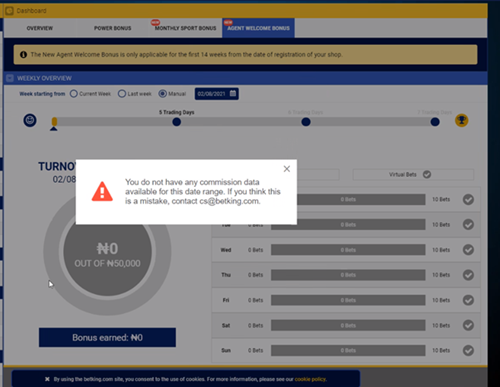 If you meet all the requirements for the trading week, your dashboard will look like this: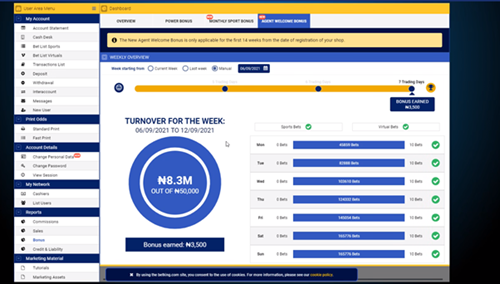 7. Contact your regional BDR for more details.